The PhilFIDA Participates at the 21st World Travel and Tourism Council (WTTC) Global Summit
Date Posted May 2022
The Department of Tourism (DOT) headed by Secretary Bernadette Romulo-Puyat has invited the PhilFIDA to participate in the country's hosting the 21st edition of the World Travel and Tourism Council (WTTC) Global Summit on 20-21 April 2022. Described as the world's most prestigious travel and tourism forum, the international conference had the theme Rediscovering Travel which featured, among others, handwoven textiles and the use of looms on the sidelines of the renowned event held at the Marriott Hotel in Pasay City.
As the centerpiece of the whole exhibit, the highlight was on indigenous and artisanal world class woven fabrics which were the T'nalak from South Cotabato, Piña cloth from Aklan and Inabel from Ilocos Norte. Actual demonstration of the country's age-old tradition of textile weaving was organized by the PhilFIDA through the Technical Assistance Division where weavers from the Lang Dulay Tinalak Weavers Association, Raquel's Piña Cloth, and Lumbaan Weavers and Cotton Producers Cooperative were invited. This was to put spotlight on the intricate and laborious handcraft weaving process using their own looms as weaving instruments.
Another part of the showcase was the pop-up store wherein selling of ready-made fabrics and other products like blouses and men's wear like barongs and vests, bags, bedsheets, runners, masks, shawls, and other items was set up as a way to generate income for the weavers.
It could be said that the exhibit was able to promote effectively the Philippine weaves as shown in the appreciation of the delegates who flocked the area to view the weaving demo while being amazed at the local craftsmanship.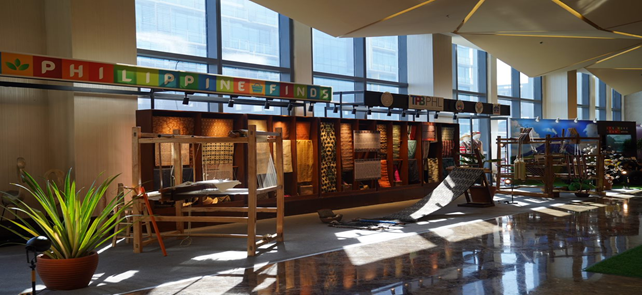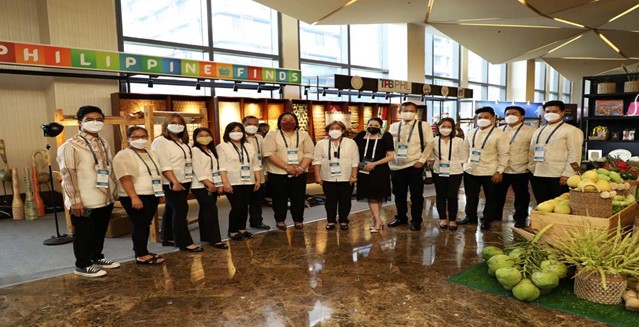 DOT Secretary Bernadette Romulo-Puyat, PhilFIDA Executive Director Kennedy T. Costales, OIC-Deputy Executive Director Ma. Victoria L. Rivera and the TAD team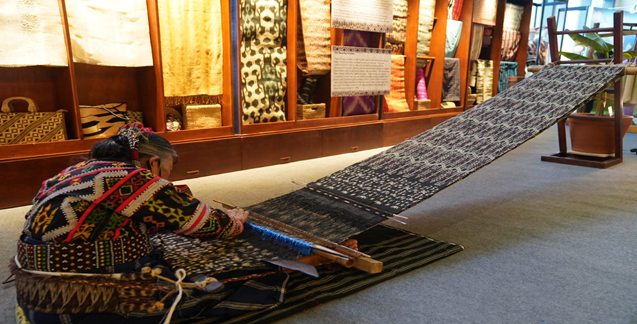 Demo on weaving process of the T'nalak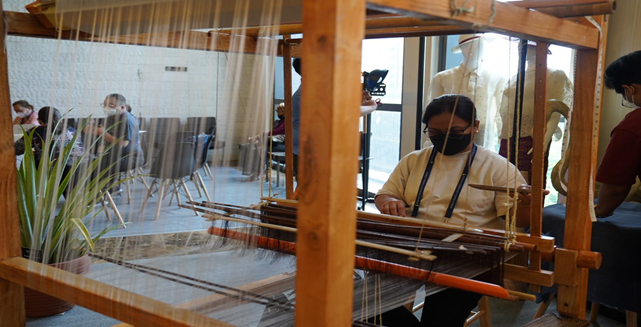 Demo on weaving process of the Piña cloth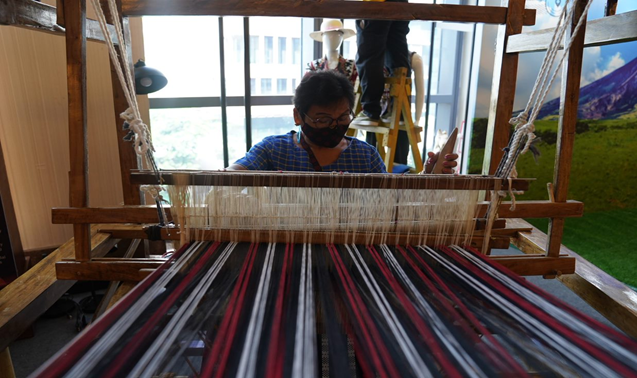 Demo on weaving process of the Inabel fabric