Piñatex: a sustainable new leather material
Date Posted September 2016.
A newly-developed natural and sustainable textile material called "Piñatex" is now being used as an alternative to leather.
This material is made from pineapple leaf fibers, a by-product of pineapple harvest.  It is a very versatile material which can be used in making leather bags, shoes, furniture, car interiors and aeronautic materials. 
Ms. Carmen Hijosa, a Spanish citizen, has been working in the design and manufacturing of leather goods for almost 15 years.  She was sent to the Philippines years ago to work with the Design Center of the Philippines and help develop the leather industry.  Her intense research on pineapple fibers led to the development of this new material and the creation of the company Ananas Anam.  
When she started working with pineapple farmers, weavers and dyers in the Philippines, she discovered a wealth of skills and natural fibers. "I understood for the first time what design really is. Design is a connecting tool between people, skills, natural resources and economics – and out of these communion something comes about that is real and meaningful," Hijosa said. 
Her close and intense work with pineapple hand weavers made her realize that pineapple fibers are very soft and pliable and doing something like that of a leather was possible. With the qualities of flexibility and strength of the pineapple fiber, she was able to develop Piñatex.
Pinatex was successfully launched in London at the Royal College of Art on 12 December 2014. From there, the company started selling in September 2015 and today they have attracted a lot of interested clients because people are looking for sustainable, plant-based and innovative products.  
Ananas Anam has been working with the Labo Progressive Multi-Purpose Cooperative (LPMPC) since 2014. This undertaking has brought new income opportunities for pineapple farmers in the province of Camarines Norte. 
Ms. Hijosa emphasized that Piñatex has much more advantage over the leather derived from live animals because it only comes from the skin so there is 30% waste. The fibers for Piñatex, however, are extracted entirely from the leaves of pineapple so there is much less waste. It looks, acts and performs like leather. It is also natural, renewable and eco-friendly. Their clients include Samsung, Puma, Porsche, BMW, Mercedez Benz, to name a few. The Ananas Anam started to sell only 9 months ago and now they have already more than 500 clients in their list.
With leather becoming more scarce and expensive and the continuous search by textile manufacturers for sustainable alternative material, Ms. Hijosa believes she landed in the right place - the Philippines, being the third largest supplier of pineapple in the world.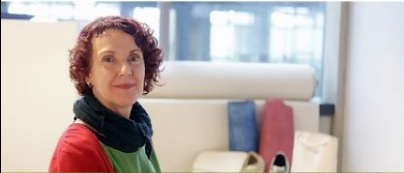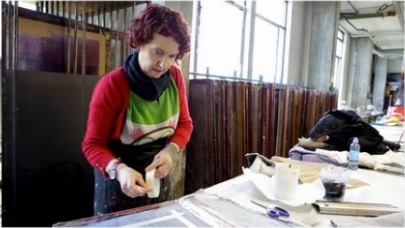 Ms. Carmen Hijosa, the founder of Pinatex and the company Ananas Anam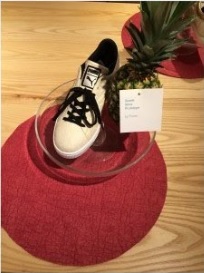 Puma's suede shoe prototype with natural Pinatextm textile